Magician's Blogs
Click on a blog below for an insight into the mind of a North East magician.
Or click here to read all of them!
It surprises me more than it does you to find that my ramblings are rated in the top 75 magic blogs on the internet! It's true! I've even got a badge to prove it…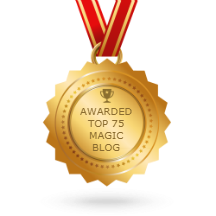 They're mostly just mindless self promotion, but they're occasionally funny or with some merit.
High School Prom – Village Hotel
Fantastical! Some of the best magic I have seen, the perfect entertainment for proms, parties, weddings etc… Highly recommend.
Tom Prytherch